The following items are available as digital downloads to support your Inner Wellness and True Life Purpose. Once your order is processed you will be emailed a download link.
---
Audio Books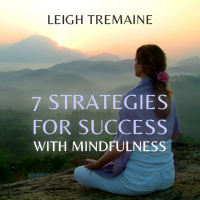 7 Strategies for Success with Mindfulness
Unabridged Audio Book
Author: Leigh Tremaine
Narrator: Leigh Tremaine
Length: 30 minutes
An important key to authentic success is the ability to stay present with mindfulness. This exclusive audio book describes 7 strategies for success with mindfulness. Includes guided meditations and visualisations.
---